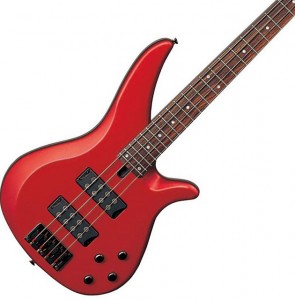 Are you a bass player or a guitar player playing the bass?
I had taught bass for many years when I first started playing bass with our church band. I knew how to play the right notes: A, D, E.  I understood rhythmic groups: quarter, eights and sixteenth notes.  I even knew I should throw in an octave or a fifth but I wasn't sure of the whole bass rhythm thing. 
 I started listening to the bass line of the songs we were playing.  After I memorized twenty or so songs I got the hang of what I was supposed to do.  The biggest compliment I got was from a great bass player.  He said, "You sound like a bass player and not a guitar player playing bass."  That made my day. 
Often times, people think that playing the bass is just an easy version of playing the guitar.  It does have elements of that.  It has fewer strings and basic songs just hit the root note.  Those are probably the only things that are the same. 
At this point in time you need to ask yourself, "Are you a bass player or a guitar player playing the bass?"
 If a person travels down the simple path then they will become the multitude of people who sound like a guitar player playing bass.  A bass player focuses on the kick drum and the rhythm of the songs more then the melody.  They also focus on the tempo and locking in with the drummer.
 Guitar strums and Bass rhythms are very different.  When I teach a person how to play bass I concentrate on the tempo and what the drummer is doing.  So, when you play bass, think about the rhythm and not the strum the guitar player is doing.  Try to memorize several bass lines from songs you like.   
 Have fun and become a bass player and not just a guitar player who plays the bass.