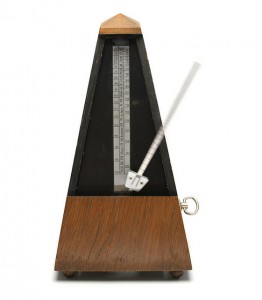 Being able to play a piece of music at a consistent speed is crucial to become a great musician.  The word for speed in music is TEMPO.  All great musicians can play at a set tempo.  They may speed up or down if the song requires it.  They will do it because they choose to and not because they have to due to their lack of ability.    
I recommend buying a good digital metronome or a drum machine if you can afford it.  Start by playing at a slow tempo like 60 beats per minute.  Play chords, scales or songs.  Concentrate on the beat more than what you are playing.  If you consistently mess up on a part, work on it for a minute without the metronome.  Then turn the metronome on again and continue to focus on the beat. Once you can play along at 60 BPM then move it up a few beats.  Be your own worst critic.  Make it sound perfect.   
Most importantly have fun.  Enjoy playing with the metronome.  Your friends and band members will thank you.